This isn't the post that I was supposed to be posting this morning, but it's the one I needed to write. Today I'm joining Shell over at Things I Can't  Say for the Pour Your Heart Out Linky list.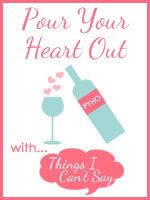 As I sat down yesterday to fill out the paperwork at work for my yearly review, it gave me a chance to reflect on this past year. What could I possibly have accomplished this year? This was the year where so much, and at the same time, so little, seems to have happened. It's hard to believe that just a year ago, I was starting my month-long sabbatical at a wonderful house in Sunriver resort. I was looking forward to exploring central Oregon, riding the bike paths, and reading and relaxing. Then, I got the phone call – the phone call that confirmed our suspicions that mom had cancer. Not only did she have cancer, but it had metastasized to a number of places in her body. What can you do at that point other than go into survival mode and hope for the best?
Mom passed away in December. Why is there nothing written about the ugly side of cancer? No amount of reading or searching the internet prepared me for the ugliness that I experienced. I won't write about it here. Perhaps one day I will. I'd do it so that someone else living the nightmare may be a little bit better prepared.
You'd think that mom's death would be the end and all that's left is the grieving, but that's not the case. Somehow during my life, I became the responsible one – the one who had to deal with all of the things that need to be done after someone's passing. I had bills to pay, a house 3000 miles away to clean out, taxes to do… It seemed like the list was never ending. I'm still working with hospice and the hospital to get some of the bills paid.
This past weekend was all about closure. I finally sold mom's house. In this terrible real estate market, I wasn't able to get much for it, but it's sold-no more lot rent to pay each month, no more electric bills to pay, and no more worrying about an uninsured manufactured home during hurricane season. It closed on Friday.
My sister flew in this weekend, too. I held our first ever family meeting on Thursday evening to go through all of the things I brought back from mom's house when I went down to clean it out. We divvied it all up, and I think everyone was ok with the outcome. One more piece of closure.
The biggest piece of closure that took place this weekend was the scattering of mom's ashes. Mom was an avid camper whose last wish was to go camping one last time and have her ashes spread in the forest. All of the sisters and our husbands took off this Labor Day weekend for a campground up near Mt. Rainier in Washington state. We took mom with us. We made s'mores. We sat around the campfire. It was a gorgeous weekend with Mt. Rainier showing her face all four days we were up there. We found a beautiful place to scatter mom's ashes. She's near, but not in, Mt. Rainier National Park. Did you know you have to have a permit to scatter ashes in the park?
So what did I get accomplished this past year? A lot, and at the same time, not much. I did the best I could. Now, I'm ready to move on. It's time to take care of me.